Every bit as valuable as the Bible's words of encouragement, wisdom and inspiration are its stories of people, like us, who learned life-changing lessons—lessons that still apply today. These stories can be valuable utensils in a parent's toolbox to help a child find their identity in Christ. No matter what situation you and your child are facing, you can find a Bible story that fits it.
Case in point: If you're trying to help your child find his or her identity in Christ, here are three stories you can use to shed light on the process.
Samuel: Silence Is Golden
Samuel was a young man who served in the tabernacle. One night he heard a voice calling his name. He thought it was Eli, the priest. But when he went to check, he discovered that it wasn't. Two more times the voice called Samuel's name. Two more times he checked with Eli. The third time, Eli realized what was happening. He instructed Samuel to reply to the voice with these words: "Speak, Lord, for your servant hears." Samuel followed Eli's instructions, and his life changed forever.
Samuel listened to the Lord's calling. He absorbed the words he heard. He maintained a humble spirit. He understood that God called him not because of anything he had done, but because of what the Lord saw could be done in him. In time, Samuel became a revered prophet and priest in Israel.
If our goal is to discover what God has in store for us, our best strategy is to give Him the time and space to speak to us in His manner.
David: The Bigger They Are, The Harder They Fall
In passages such as John 15:20 ("If they persecuted Me, they will also persecute you"), Jesus warned that following Him would not be easy. Those who commit to Him will face trying times, setbacks, obstacles and opponents—some of which will seem quite intimidating.
David faced an opponent like that. And we can look to his experience for lessons for our own battles. David was delivering food to his brothers in Saul's army when he saw Goliath, the Philistine super-warrior, challenge the Israelites and blaspheme their God.
Since no one else would answer Goliath's challenge, David walked onto the battlefield himself. He knew little about combat strategies or weaponry, but he knew all he needed to know about the God he served. So he approached Goliath with no armor, no shield and no sword. Just a sling and a few stones. With a flick of the wrist—and the power of God behind him—David eliminated the giant obstacle before him.
The way we look at the obstacles in our way will determine how we react to them. King Saul and his soldiers looked at Goliath as an unbeatable foe, so they cowered in fear from him. David saw him as powerless against the God of Israel. So he defeated him. The more we understand who God is and what He's capable of, the more confidence we'll have in overcoming obstacles great and small.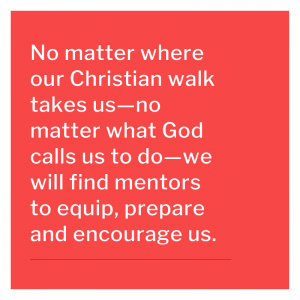 Timothy: Always Someone There to Remind Me
Timothy discovered his identity in Christ at a very young age. His mother and grandmother were among the earliest Christian converts and gave Timothy a valuable spiritual education. God called Timothy to be a pastor, even though he was much younger than many of the people in his congregation.
He might have been overwhelmed by his responsibilities if it weren't for another Christian leader who took a strong interest in him. The apostle Paul became a spiritual mentor to Timothy, offering him much needed instruction and encouragement. Paul's advice ran the gamut from the spiritually profound ("Let no one despise your youth, but be an example to the believers" [1 Timothy 4:12]) to the practical ("Use a little wine for your stomach's sake" [1 Timothy 5:23]).
The lesson your kids can take from Timothy's experience is that no matter where our Christian walk takes us—no matter what God calls us to do—we will find mentors to equip, prepare and encourage us. That's what it means to be part of the body of Christ.
###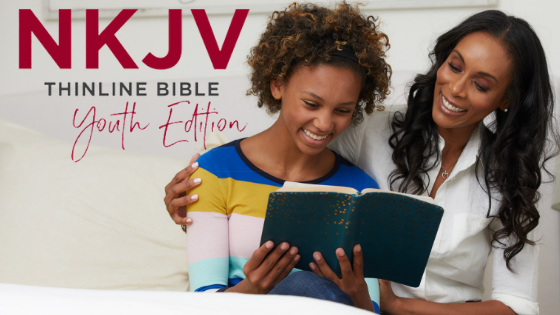 Thomas Nelson's new NKJV and KJV Youth Edition Bibles are lightweight and easy-to-carry for the student on the go to church, school, and summer camp. The quality of the materials used to make these editions are a step up from the normal standard and, at an excellent price, these new youth edition Bibles make great gifts for birthdays, graduations, youth camps, or other special events.