If you were to witness Jesus Christ in the fullness of His majesty, the brightness of His glory, how would you respond?
Would you stand there unaffected?  Would you run away?  Or would you fall on your knees?
A few highly blessed humans have seen Jesus Christ in glory. And when they did, they not only fell on their knees, they fell on their faces.
Peter, James, and John: "While [Jesus] was still speaking, behold, a bright cloud overshadowed them; and suddenly a voice came out of the cloud, saying, 'This is My beloved Son, in whom I am well pleased. Hear Him!' And when the disciples heard it, they fell on their faces and were greatly afraid" (Matthew 17:5–6 NKJV).
Saul of Tarsus: "As [Saul] journeyed he came near Damascus, and suddenly a light shone around him from heaven. Then he fell to the ground…" (Acts. 9:3 NKJV).
John on Patmos: "Then I turned to see the voice that spoke with me…. And when I saw Him, I fell at His feet as dead" (Revelation  1:12, 17 NKJV).
Every single time, when Jesus appears in glory, people fall to the ground, just like you and I would. Imagine a thousand lightning storms embodied in one person!
But here's a question: What happens next? If Jesus appeared to you in the fullness of his glory, and you fell to the ground, what would you do afterward? How would you be affected long-term? How would you live? What would you do and say?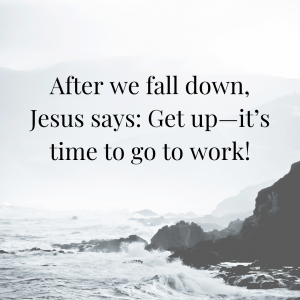 Here's what's interesting about all these stories. Every time Jesus appears in glory, and people fall to the ground, Jesus then tells them to do something: Get up.
Jesus to Peter, James, and John: "Arise" (Matthew 17:7 NKJV).
Jesus to Saul: "Arise and go into the city, and you will be told what you must do" (Acts 9:6 NKJV).
Jesus to John: "Come up here, and I will show you things which must take place…." (Revelation 4:1 NKJV).
After we fall down, Jesus says: Get up—it's time to go to work!
In the letter we call 2 Peter, the disciple Simon Peter writes about his personal experience as an eyewitness of Jesus' majesty (2 Peter 1:16 NKJV). Peter saw Jesus transfigured in glory. But Peter also came to understand that Jesus didn't just come to dazzle us like lightning. He came to draw near to us, to change us.
So what does Simon Peter have to say to us after he'd seen the majesty of Jesus? In the same letter, 2 Peter, the disciple writes:
"…as His divine power has given to us all things that pertain to life and godliness, through the knowledge of Him who called us by glory and virtue, by which have been given to us exceedingly great and precious promises, that through these you may be partakers of the divine nature, having escaped the corruption that is in the world through lust. But also for this very reason, giving all diligence, add to your faith virtue, to virtue knowledge, to knowledge self-control, to self-control perseverance, to perseverance godliness, to godliness brotherly kindness, and to brotherly kindness love. For if these things are yours and abound, you will be neither barren nor unfruitful in the knowledge of our Lord Jesus Christ" (2 Peter 1:3–8 NKJV).
In other words: Get up. It's time to go to work.
By Andy Nash is an author, professor, and pastor who leads summer study tours to Israel.
###
Sometimes you just need a classic! With the NKJV Classic Verse-style, Center-column Reference Bible from Thomas Nelson, you get the full text of the Holy Bible in the trustworthy New King James Version, presented in a tried-and-true format: classic verse-style Scripture layout for easy navigation and more than 72,000 cross-references conveniently located in the center column.