October's Pastor Appreciation emphasis in many churches is a good reminder to pray for our servant-leaders during the month, of course. But these godly men and women stand in need of prayer every single day. Use these prayers as a starting point in your prayer time this month but let them also help you develop a lifelong pattern of lifting your pastor to the Lord.
Pray Blessings and Gratitude over Your Pastor
Numbers 6:24-26—"The Lord bless you and keep you; the Lord make his face to shine upon you and be gracious to you; the Lord lift up his countenance upon you and give you peace."
Dear Lord,
Thank you for sending our pastor to shepherd the church. I'm grateful for the love you put in the pastor's heart for You and Your people. I appreciate the unique set of gifts and talents that enrich the pastor's ministry and bless our church. Would You, in turn, bless the pastor today? Help the pastor to sense Your presence in such a sweet way. Fill the pastor up, Lord and use the pastor for Your glory today. And show me how I can support and encourage. Thanking You for this good leader, I pray this in Jesus' name.
Pray for the Courage and Strength of Your Pastor
Joshua 1:9—"Have I not commanded you? Be strong and courageous. Do not be frightened, and do not be dismayed, for the Lord your God is with you wherever you go."
Dear Lord,
My pastor's on the front line; an easy target for the enemy and his minions. My pastor's preaching the Word faithfully from the platform each week as a community leader, and a completely sold out servant to You. Dear Holy Spirit, empower the pastor this day to boldly proclaim the truth of Your Word. Help the pastor not to grow weary in well-doing or to fall away but provide grace upon grace. I'm thanking You in advance for what You will do in and through our pastor this very day, in Jesus' name. 
Pray that Your Pastor Clearly Sees God's Direction
Proverbs 3:5-6—"Trust in the Lord with all your heart, and do not lean on your own understanding. In all your ways acknowledge him, and he will make straight your paths."
Dear Father,
Thank you for a pastor that seeks You with a whole heart. The pastor's singular desire, Lord, is to serve and please You. So, Father, show the pastor the way. Give the pastor Your vision. Grant Your clarity. Make the complex simple. And then give the pastor boldness to step out in faith to accomplish Your plans for our ministry and for our church. It's easy to be distracted by many voices, so Father let the pastor hear but one voice, and let that voice be Yours. These things I pray with hope and expectation, in Jesus' name. 
Pray for Your Pastor to Be Renewed with Energy
Galatians 6:9—"And let us not grow weary of doing good, for in due season we will reap, if we do not give up."
Dear Lord,
Even though my pastor serves our church with what seems like boundless energy, no one is a superhuman; I know the pastor gets really weary. The demands on the body and spirit are nearly unending. Would You let my pastor find respite and relaxation from the day? Would You clear the mind, give a good sleep tonight, and refreshment for another day of kingdom service? Bless my pastor, oh Lord, for faithfulness and offer blessings with a new day to continue in  faithfully service to You.
Pray for Your Pastor's Focus to Increase
Matthew 6:33—"But seek first the kingdom of God and his righteousness, and all these things will be added to you."
Dear God,
There will be hundreds of distractions in my pastor's life today—fires to put out, unexpected twists and turns, and the noise and clutter of the world. I know that the deceiver will do anything he can to keep my pastor from study, prayer, and service. So, I lift my pastor up to You, dear Lord, asking You to help keep the main thing the main thing. Give "blinders" so that my pastor is keenly focused on You and on Your purpose for life and ministry this day. In Jesus' name.   
Pray for the Blessing of Wisdom to Increase
James 1:5-6—"If any of you lacks wisdom, let him ask God, who gives generously to all without reproach, and it will be given him. But let him ask in faith, with no doubting, for the one who doubts is like a wave of the sea that is driven and tossed by the wind."
Dear Lord,
I come to you today interceding for my pastor. I know there will be many important decisions that must be made, many words that must be chosen carefully, many needs that must be answered. It's a day that the pastor can't handle with only human abilities. The pastor needs Your wisdom and Your guidance. Only You know what today will bring, and only You know what the demands will be. Meet them, oh Lord, and give the pastor just what is needed, just when it's needed. I'm thanking you, in Jesus' name.
Pray that Love Will Surround and Encourage Your Pastor
John 13: 34-35—"A new commandment I give to you, that you love one another: just as I have loved you, you also are to love one another. By this all people will know that you are my disciples, if you have love for one another."
Dear Holy Spirit,
Today I pray for the fruits of the spirit in my pastor's life—that love, joy, peace, and patience will guide; that kindness and goodness will be companions; that faithfulness will be the motto, and that gentleness and self-control will be evident to all. Help the pastor to see each person today through Your eyes. And help them to see You in the pastor. I love you, Lord, and I thank you for my pastor, in Jesus' name.
###
Gift Ideas for Your Pastor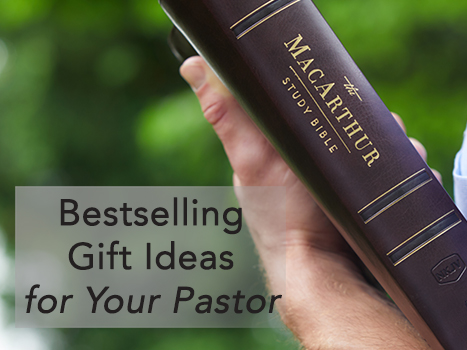 Looking to find a practical and meaningful gift for your pastor? Why not offer the gift of godly resources. We have some bestselling Bibles to add to our list. Check them out here.