But seek first the kingdom of God and His righteousness, and all these things shall be added to you. – Matthew 6:33 (NKJV)
Being a godly wife begins with the right priorities — nourishing your personal relationship to God (Matthew 6:33), ministering to your husband (Proverbs 18:22; 19:14), nurturing your children (2 Timothy 1:5), keeping your home (Titus 2:5), then adding whatever other activities time and energy permit (Proverbs 31:10–31).
This passage praises a "virtuous wife" (lit. "woman of strength") in the form of an acrostic, with each successive verse beginning with one of the twenty-two letters in the Hebrew alphabet. This divinely inspired portrait of an ideal wife includes: pleasant appearance (v. 22, giving her husband a sense of pride), godly character (vv. 10–12, 17, 25, 30, 31, without a materialistic mindset), efficiency in homemaking (vv. 13–15, 21, 27, seeing value in the mundane household tasks), helpfulness to her husband (vv. 11, 23, 28, especially when he is emotionally and spiritually drained), attentiveness to her children (v. 28, understanding the awesome task of producing the next generation), interest in her community (vv. 20, 26), willingness to use energies and creativity (vv. 16, 18, 19, 24), and determination to be worthy of honor and commendation (vv. 28–31).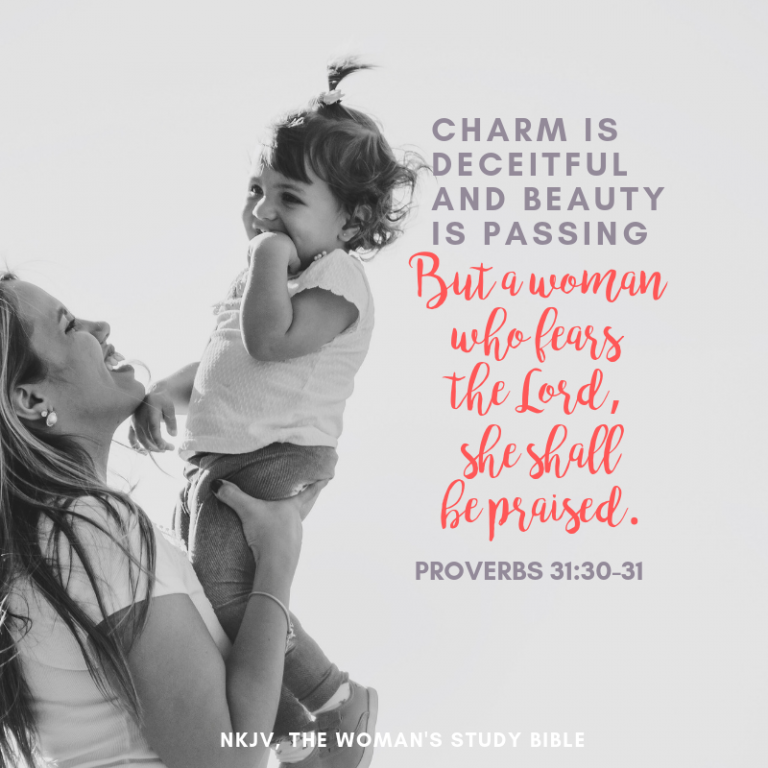 These very positive qualities are contrasted with the "contentious" wife (Proverbs 19:13; 21:9, 19) and "immoral" (in some translations "strange") woman elsewhere (Proverbs. 5:3–14, 20; 6:24–32; 7:6–27).
A wife also has unique needs that are best met by her own husband
Scripture describes the creation of woman with the word "made" (Hebrew banah, lit. "build"). God planned and supervised this "building" of the woman with the intent that she would be a "helper comparable to the man" (Hebrew 'ezer kenegdo). Unlike the animals, the woman was of the same nature as the man (Geness 2:23). The word "helper" is also used to describe God (Psalm 33:20). It is a term of function rather than worth. A woman does not lose value as a person by humbly assuming the role of a helper. The wife then has the assignment of being her husband's helper: (1) as a spiritual partner, assisting him in obeying the Word of God and in doing spiritual ministries, (2) as a counterpart in linking hands with the Creator to continue the generations, (3) as a confidant to offer comfort and fellowship (Genesis 2:23, 24), and (4) as a companion to provide encouragement and inspiration.
###
This short excerpt was drawn from the Woman's Study Bible.
A perennial best-seller, The Woman's Study Bible is relied on by women of all ages as the go-to source for Bible study needs. Now beautifully redesigned – and the only full color study Bible for women – its timeless content speaks God's life-giving truth to women today.