For I know the thoughts that I think toward you, says the Lord, thoughts of peace and not of evil, to give you a future and a hope. – Jeremiah 29:11
With its references to God's plans, prosperity, protection from harm, peace, and a future filled with hope—Jeremiah 29:11 is often offered as a spiritual "security blanket" to people who are struggling. The verse has inspired and comforted countless believers who interpret it to mean that if they endure their immediate circumstances, they will emerge victorious, triumphant, and celebrated in God's ultimate plan of prosperity. They anticipate a moment when their suffering ends and their flourishing begins.
Israel in Exile
The context of the Old Testament passage, however, casts a different light on the verse. Here's the situation. The people of Israel were in exile in Babylon. Their homeland had been conquered by the Babylonians, and they had been taken prisoners as punishment for their disobedience to God.
In exile, the Israelites were desperate for hope. And a false prophet named Hananiah was only too happy to take advantage of their desperation. Hananiah proclaimed that God would free the Israelites from captivity and return them to their homeland within two years, which was a lie. So the task fell to Jeremiah, the true prophet of God, to set matters straight.
God's True Plan
Jeremiah exposes Hananiah's lie, and in Jeremiah 29:11 he quotes God's actual promise. The Lord did, in fact, have a plan for the Israelites—one that offered hope and a prospering future. But it wasn't the plan that the Israelites envisioned. In fact, God's plan was approximately 180 degrees from what the Israelites envisioned.
The details of God's plan are tied to a set of instructions found four verses earlier. "And seek the peace of the city where I have caused you to be carried away captive, and pray to the Lord for it; for in its peace you will have peace" (Jeremiah 29:7). God linked the Israelites' hope and future prosperity to the success and prosperity of Babylon.
Hope in Captivity
In order to realize the blessings of God's promise, the Israelites had to pray for and work toward the prosperity of their enemies, the very people who had made them slaves! The hope and future God had in store for them did not include an immediate return to their homeland or the restoration of their freedom—the two things the Israelites wanted most. In fact, in verse 10, God announces that the Babylonian captivity would last for "seventy years." The generation of Israelites to whom Jeremiah prophesied had no hope of ever seeing their homeland again.
What they had instead was hope in the midst of captivity—the unexpected hope that is revealed through spiritual growth, the hard-earned spiritual growth that occurs only through perseverance, the perseverance that is learned from enduring difficult circumstances with God's help.
What is Our Hope?
So what do we take away from Jeremiah 29:11? First, if we put our trust in Christ, we can anticipate an ultimately glorious future—one spent in God's presence for eternity. Second, God's plans for His people in this world rarely involve helping us escape from our trials completely. He doesn't make our suffering disappear. Instead, He helps us persevere through them. He helps us grow and mature in ways we wouldn't otherwise grow and mature apart from tough times. He helps us find joy in the unlikeliest of circumstances. It's the kind of joy that affects not just our lives but the lives of others as well. He prospers us in ways that expand our understanding of prosperity.
###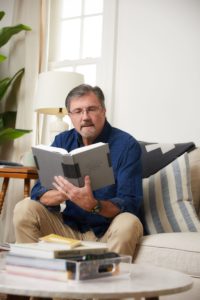 Hear more encouragement in The Lucado Encouraging Word Bible, available now!
Lucado Encouraging Word Bible is designed to encourage believers along their journey with the Lord. Max Lucado's warm, conversational style ensures that the marginal notes, short articles, and various study tools meet you where you are, providing encouragement and insight. This Bible will strengthen you as you follow the included reading plan and incorporate this Bible into your daily devotional life.