All of us will face our share of storms. No one gets through life scot-free. At one point or another, the sky will darken, the winds will rage, and we will find ourselves in a modern-day version of the Galilean gusher.
Jesus in the Storm
John's gospel tells us that one night, when evening came, Jesus' disciples went down to the lake, where they got into a boat and set off across the lake for Capernaum. By now it was dark, and Jesus had not yet joined them. A strong wind was blowing and the waters grew rough. (John 6:16–18 NIV)
The hearts of the followers began to sink as their boat was certain to do. Their skin was soaked, throats hoarse, eyes wide. If only Jesus were with them in the boat. If only Jesus had told them to stay on the shore. But he was not in the boat, and he had told them to cross the water (Matthew 14:22). Consequently, this moment had all the elements of a crisis. The disciples were exhausted. This was a backbreaking, boat-bouncing, terror-stirring push and pull of the oars. They were too far from the shore, too long in the struggle, and too small against the waves.
And Jesus was nowhere to be seen. Have you ever encountered a dangerous, ominous, seemingly godforsaken storm? Too far from the shore. Too far from a solution. Too long in the struggle. Too long in the court system. Too long in the hospital. Too long without a good friend. Too small against the waves. Too small and too alone. The storm controlled the disciples.
Storms in Our Lives
Storms can dominate our lives as well. Just as we have no authority over the squalls of nature, we have no authority over the squalls of life. You may desire to save a marriage, but you have just one of two required votes. You may attempt to restore a rebellious child, but you can't be sure you'll succeed. You might pursue good health, but still face a pandemic. Storms overtake us. And it sometimes seems they will never end. But then the unimaginable happens. "They saw Jesus approaching the boat, walking on the water…" (John 6:19 NIV).
Before Jesus stills the storms, he comes to us in the midst of our storms. He says to us what he said to the disciples: "It is I; don't be afraid" (v. 20 NIV).
The literal translation of what Jesus said is "I AM; don't be afraid." I AM is God's name. We've heard this name before. Speaking from a burning bush to a knee-knocking Moses, God announced, "I AM WHO I AM" (Exodus 3:14 NASB). Double-dog daring his enemies to prove him otherwise, Jesus declared, "Before Abraham was born, I am" (John 8:58 NASB). Determined to say it often enough and loud enough to get our attention, Christ chorused:
The Christ in Your Storm
The Christ in your storm is the present-tense Christ. He never says, "I was." We do. We do because we were. We were younger, faster, prettier. Prone to be people of the past tense, we reminisce. Not God. Unwavering in strength, he need never say, "I was." Heaven has no rearview mirrors. Or crystal balls. Our "I am" God never yearns, "Someday I will be."
Again, we do. Dream-fueled, we reach for horizons. "Someday I will . . ." Not God. Can water be wetter? Could wind be windless? Can God be more God? No. He does not change. He is the "I am" God. "Jesus Christ is the same yesterday, today, and forever" (Hebrews 13:8 NLT). From the center of the storm, the unwavering Jesus shouts, "I am." Bold against the Galilean waves, the ICU, the boardroom, prison cell, or maternity ward—whatever your storm, "I am."
This is the title of steadiness and power. When we wonder if God is coming, he answers with his name: "I AM!" When we wonder if he is able, he declares, "I AM." When we see nothing but darkness, feel nothing but doubt, and wonder if God is near or aware, the welcome answer from Jesus is this: "I AM!"
Pause for a moment and let him tell you his name. Your greatest need is his presence. Yes, you want this storm to pass. Yes, you want the winds to still. But yes, you want to know, you need to know, and you must know that the great I AM is near.
You are never alone.
Content in this post adapted from Max Lucado's new book You Are Never Alone.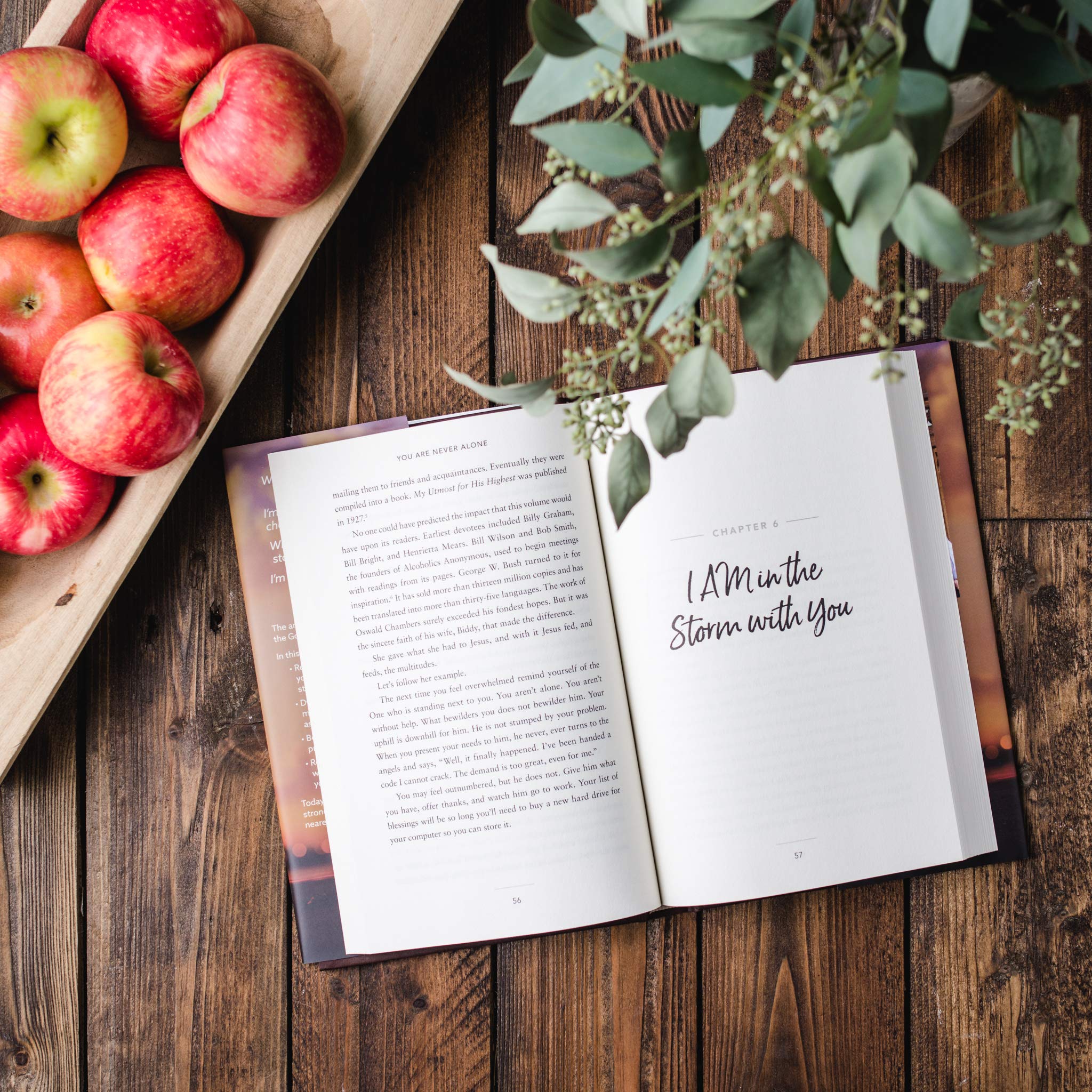 When life feels depleted, does God care? I'm facing an onslaught of challenges, will God help? When life grows dark and stormy, does God notice? I'm facing the fear of death, will God help me? The answer in the life-giving miracles in the Gospel of John is a resounding yes.
In You Are Never Alone, Max will help you:
Realize that Jesus is walking with you and lifting you out of your storms.
Dwell in the grace of the cross, the miracle of the empty tomb, and the assurance of restoration power.
Believe that God is your ever-present source of help.
Recognize that you are never without hope or strength because you are never, ever, alone.
Today, take courage that you are stronger than you think because God is nearer than you know.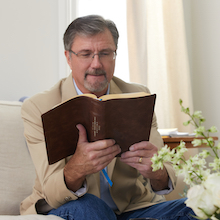 You can get more Biblical encouragement from Max Lucado in the Lucado Encouraging Word Bible.
This Bible is designed to encourage believers along their journey with the Lord. Max Lucado's warm, conversational style ensures that the marginal notes, short articles, and various study tools meet you where you are, providing encouragement and insight. This Bible will strengthen you as you follow the included reading plan and incorporate this Bible into your daily devotional life. The 30-day study guide will help you jumpstart this practice. This Bible will help you as a believer, and with Pastor Lucado's gentle yet powerful notes, it's a beautiful gift for your non-believing friends and family who could use some encouragement with Scripture.