Thomas Nelson, in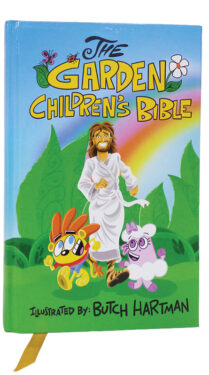 partnership with award-winning illustrator, Butch Hartman, is pleased to announce the release of The Garden Children's Bible. Hartman is best known for his animated works The Fairly Odd Parents and Danny Phantom.
The Garden Children's Bible is based on Hartman's new animated The Garden series and invites kids to understand the gospel in an entertaining and truth-centered way as they read the Scriptures alongside stunning stories and Hartman's signature illustrations.
"I took on the assignment of drawing The Garden Children's Bible because of one word: legacy," says Hartman. "Children will learn the word of God through reading and enjoying this Bible for years to come and, to me, there is no greater honor than that."
In this Bible, like in The Garden series, Hartman's characters Lenny the Lion and Lucy the Lamb provide hundreds of application notes and helpful facts in clear, easy-to-understand language. More than 100 Bible story original illustrations, and five full-color comic strips from the animated series are included as well.
"We have deeply enjoyed our partnership with Butch Hartman. He's a faithful Christian and his deep passion for helping children place their faith in Christ is infectious," said Philip Nation, vice president and publisher of Bibles for Thomas Nelson. "I believe that The Garden Children's Bible will be used to draw many children into a lifelong practice of reading the Bible."
ABOUT THE GARDEN SERIES The Garden is a Christ-centered children's cartoon series aimed at teaching kids the Gospel in a way they can understand. It features Lenny the Lion and Lucy the Lamb—two best friends who work inside a magical garden where anything can grow! Each story revolves around them having to accomplish their goals by learning a Bible story or an original song. The Garden will take your kids right along on these adventures, too! For additional information about "The Garden" series, visit gardencartoon.com.
ABOUT BUTCH HARTMAN Butch Hartman is an award-winning illustrator and creator of iconic kids' television shows, including The Fairly Odd Parents, Danny Phantom, T.U.F.F. Puppy, and Bunsen is a Beast. He is also the creator and executive producer of The Garden cartoon series. A dedicated Christian, he has devoted his life to redemptive storytelling. Butch lives in Los Angeles, California with his wife Julieann. They have two grown daughters, Carly and Sophia.