Thomas Nelson, a division of HarperCollins Christian Publishing, announces its partnership with Michele Clark Jenkins and Stephanie Perry Moore to develop The Breathe Life Bible. The project is scheduled to release in February 2024. This is their third Bible project with Thomas Nelson.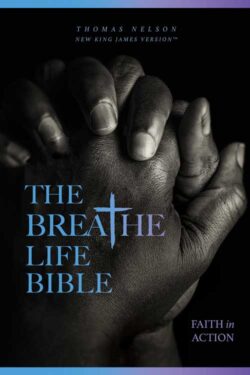 "After the tragic death of George Floyd, I began to ask the Lord, 'What shall we do in the face of continued injustice and oppression?'" said Jenkins. "Stephanie and I began to talk about it and seek the Lord for answers. That led to the creation of this Bible."
The Breathe Life Bible is designed to help readers put their faith into action as they study Scripture through the lens of the BREATHE acronym: Believe, Reconcile, Exalt, Act, Trust, Hope, and Elevate.
This Bible also includes articles exploring each of these seven aspects of BREATHE, Q&A format articles addressing difficult life situations, short biographical sketches of 49 different biblical people, and more.
"This Bible was created specifically for people of color and others who have felt marginalized," said Jenkins. "It navigates the Word of God to bring light to real life issues. It seeks to replace helplessness with active faith with the peace and promises found in God's Word by connecting Scripture to experience, and biblical truth to daily life."
The commentary and features of The Breathe Life Bible draw on the wisdom and experience of 24 leaders who are deeply invested in addressing issues of justice with biblical truth:
Dr. Bernice A. King
Ambassador Andrew Young
Bishop Hezekiah Walker
Bishop Marvin Sapp
Bishop Vashti McKenzie
Pastor Debra L. Morton
Bishop Kenneth Ulmer
Matthew Wesley Williams
Thelma Thomas Daley
Derrick Johnson
Dr. Charrita Danley Quimby
Dr. Eric Lee
Pastor Derrick Moore
Arthur Satterwhite
Pastor Tommy Kyllonen
Dr. Helen Delaney
Pastor Tommy Stevenson
LaKeesha Walrond
De'Leice Drane
First Lady Jamell Meeks
James Guitard
Dr. Lakeba Williams
Walter Kimbrough
Jekalyn Carr
"I'm grateful for the team of editors and writers who have created the notes for The Breathe Life Bible," said Philip Nation, vice president and publisher of Bibles for Thomas Nelson. "This is an edition that leads us to put action to our faith. I hope that their work will give everyone greater courage to stand strong during days that feel overwhelming, shed light on the dark places of this world, and activate us to walk boldly in faith."
---
About the New King James Version
Trusted by millions of believers around the world, the New King James Version (NKJV) is a bestselling modern "word-for-word" biblical translation. It balances the literary beauty and familiarity of the King James tradition with an extraordinary commitment to preserving the grammar and structure of the underlying biblical languages.
---
About Michele Clark Jenkins and Stephanie Perry Moore
Michele Clark Jenkins is the author of She Speaks, a former HBO and Black Family Channel executive, and acts as the Senior Director, Consulting Group for Griffin & Strong, P.C. Stephanie Perry Moore is a bestselling author is a bestselling author of 80 novels and is the showrunner for The Cool and the Strong a scripted SCETV/PBS show based off her newest book series, Magic Strong. Together, Jenkins and Moore are the cofounders and leaders of Sisters in Faith, a ministry devoted to encouraging and empowering African American women with God's Word.