First Bibles Releasing to Showcase Thomas Nelson's Comfort Print®
Thomas Nelson is excited today to announce the release of over 40 newly designed KJV Bibles. With branded packaging, beautiful covers, and a custom, translation-specific font specifically designed to increase the comfort and clarity of the reading experience, the new line of Thomas Nelson KJV Bibles meets high standards of beauty, durability, and functionality. These KJV Bibles are the first to be released under the exclusive brand of Thomas Nelson Comfort Print® Bibles.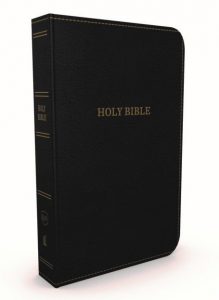 Continuing its legacy of King James Version stewardship since 1798, Thomas Nelson's latest editions are crafted for ultimate readability and serious Scripture study. Thanks to new, easy-to-read Comfort Print Bibles, readers are invited to linger, engage, and deeply explore God's Word as their eyes flow smoothly along the lines of text.
"Whatever format or print size they choose, readers will find our new KJV Bibles, featuring the Thomas Nelson KJV Font, an absolute delight to read," says Daniel Marrs, associate publisher, Thomas Nelson Bible Group. "All our new text Bibles use custom, translation-specific fonts for increased beauty and readability. The Comfort Print reading experience is matched by an exciting selection of cover designs, with durable, lay-flat bindings. These great new features are showcased by the updated packaging. And we're offering all of this at the same great prices."
The newly designed KJV Bibles feature the custom Thomas Nelson KJV Font, designed by 2K/DENMARK, a company renowned for their decades of experience in Bible typesetting and design. Their founder, Klaus Krogh, was inspired in his creation of the KJV font by the font used in one of the earliest Thomas Nelson Bibles from the 1840s, which he discovered in Edinburgh, Scotland. 2K/DENMARK's Bible typefaces "are designed to serve one purpose; to contain the message of the Word of God." (Learn more about 2K/DENMARK at www.2kdenmark.com.)
New Thomas Nelson KJV Bibles releasing today are represented in the following categories:
KJV Pew Bibles
KJV Gift and Award Bibles
KJV Thinline Standard Print Bibles
KJV Deluxe Gift Bibles
KJV Thinline Compact Bibles
KJV Thinline Large Print Bibles
The new KJV Deluxe Gift Bibles are enhanced with rich, bright, quality paper and a sewn binding. The new KJV Thinline Bibles include classic "old-world" cloth over board cover options. This is also the first time Thomas Nelson has released large print editions in the popular Thinline category. The standard Leathersoft™ editions feature two ribbon markers, foil stamping, and edge stitching, for a premium look and feel. Other KJV Bibles will be released in the summer and fall of 2017, including large print Pew Bibles and a full line of brand new KJV Reference Bibles.
To learn more about the new Comfort Print Bibles, the custom Thomas Nelson KJV Font, Thomas Nelson's new KJV line-up, and future Comfort Print Bibles releasing from Thomas Nelson, visit www.ComfortPrintBibles.com.