The idea of journaling the Bible is not new to many. If you are already a Bible-journaling extraordinaire, I hope this article gives you at least one new tool in your toolbelt. Or if you are brand new to the idea, I hope you try at least one of these methods as a spiritual practice this year.
Method One — Copying Scripture
The art of writing out the Book of the Bible you are studying as you study – it seems maybe too easy, but it really is an amazing way to see the Scripture in a deeper way. Because in doing this, it forces you to write down every word. You can't skip or glaze over sections that might be difficult or confusing. This works especially well if you are working through a shorter book of the Bible. I did this with the Book of James, and it was very doable to finish in a short amount of time. Then, when you are done, you have the whole Book written down to look back on and remember. It is especially neat to do this in a translation you are less familiar with as new insights pop out when you are reading it in a different version.
Method Two — The SOAP Method
The SOAP Method, developed by Pastor Wayne Cordeiro, is another easy way to journal the Bible. SOAP stands for: Scripture, Observation, Application, and Prayer. You can do this with just one verse or many. First, you write down a passage of Scripture (S). Then you write down your observations about that Scripture (O). What stands out to you? What questions do you have? What can you learn from this passage? Then after you write those thoughts down, you move to application (A). What does this mean for your life? How can you apply it and put it into practice? And lastly, pray about what you read (P). Does the passage spur on a prayer for someone else? For yourself? For more reliance on Jesus? Write down your prayers as the last part of this method.
One thing I would suggest about this method is not to blindly go through and pick a verse–but rather go through a book of the Bible in its entirety and pick out verses as you go–that way you are sure to read it in context. If you are working through a longer book of the Bible, one tip is to read a chapter or two or three in one sitting and then go back and pick a verse or two that stands out to you from those chapters and do the SOAP method that way to work through the whole book.
For more guidance on how to use the SOAP Method, check out the Love God Greatly Bible.
Method Three — The 3-Question Method
As you are reading the Bible, another way to journal is to ask these three questions and journal your thoughts about them.
1. What do you learn about God/Jesus in this passage?
2. What do you learn about people/mankind in this passage?
3. What are you commanded to do or think in this passage?
Be aware, there may not be an answer to all three questions, though, and that is okay. It is also important to think about the context of the passage you are reading – what did the passage mean to the people at the time when it was written? Like method two above, I would recommend you read a whole book of the Bible in context as you work through these questions rather than picking a random verse in the Bible and not reviewing the context surrounding it.
Which of these are new to you? Which will you try first? What book of the Bible do you want to start with? Let's spur each other on to stay connected to God's Word.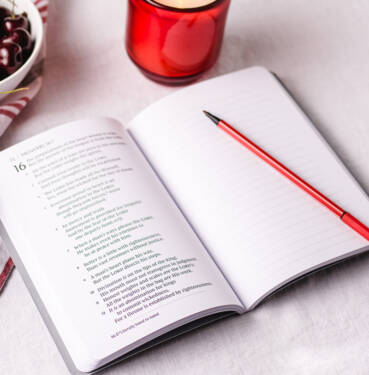 Are you excited to start journaling as you read the Bible? The NKJV Bible Journals are the perfect resource as you begin this journey. Focus on one book at a time and soak up the Word of God – with a full page of lined paper next to each page of Scripture, you'll never run out of journaling space. Learn more.