 A SOAP Method Study Bible to help you love God greatly with your whole life
Using the proven SOAP Bible study method—Scripture, Observation, Application, Prayer—the Young Women Love God Greatly Bible creates the path for daily, personal interaction with the Bible and the God who loves you.
Limited Time Offer
For a limited time, get 50% off Love God Greatly Bibles at FaithGateway—and free shipping on orders of $35 or more!
How does the  SOAP Method Work?
The SOAP Method is a proven and effective way to engage with the Bible through:
Scripture
Read a passage of Scripture and write out 1-2 key verses in a journal.
Observation
Write down anything that stands out to you in your passage.
Application
Write down how you feel you should respond to your passage.
Prayer
Pray in response to what you've explored during your time in God's Word.
Plus, the 50 included reading plans covering every book of the Bible, the Young Women Love God Greatly Bible helps you put the SOAP method into practice every day.
A Community-like Experience in God's Word
The Young Women Love God Greatly Bible offers a community-like experience to grow in your faith with:
Personal testimonies from women around the world
Mentor letters to guide you through life's challenges and questions
Profiles of biblical and historical women
Topical reading plans to help you explore important aspects of the Christian life, including:

Fear and Anxiety: Learning to Overcome with God's Truth
Truth over Lies
Friendship
Growing through Prayer
Promises of God
and more.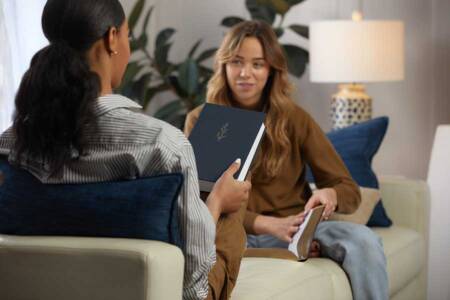 Engage with God's Word, find encouragement from women of faith, past and present, and discover what it means to love God greatly with your whole life.
Founded in 2010 by Angela Perritt, Love God Greatly is a global ministry dedicated to providing women access to resources and community around the Bible. The Bible studies are available in over 30 languages and 100 countries. 100% of all ministry profits go directly toward the urgent need of providing Bible studies to women around the world in their native languages at no cost.