2021 Adventist Virtual Global Campmeeting
Bible Sale
All Bibles start at 30% or more discount.
Campmeeting Special: Save an EXTRA 10% off orders over $25 and save 40% or more!
FREE SHIPPING on orders over $30.  Bulk orders save even more!
Use promotion code SDA21 to apply the extra 10% discount. Expires June 30, 2021.
A big thank you to our store partner, ChurchSource.com for making these deals possible. See details at the bottom of the page.
For Bible orders outside the US, ISBN numbers are provided for reference because these Bibles are available worldwide anywhere books are sold.
Premier Collection Bibles

Enjoy the craftsmanship of Thomas Nelson's Premier Collection Bibles for a lifetime in the Word, featuring supple goatskin leather covers, European Bible paper, three wide double-faced satin ribbons, art-gilt page edges, and Smyth-sewn edge-lined bindings for durability and flexibility.
NKJV Bible Journals
Go deeper in God's Word, one book at a time.
Focus on one book of Scripture at a time, and soak up God's message for you. The NKJV Bible Journals provide a unique Scripture-engagement format with room to write your notes and your prayers. These Bible Journals are ideally suited for using for following a sermon series in churches, participating in small group inductive studies, and for individual devotional and study time.
NET Full Translator Note Edition Bibles
Come & See.
The NET Bible (New English Translation) is a completely new translation of the Bible with 60,932 translators' notes! It was completed by more than 25 scholars – experts in the original biblical languages – who worked directly from the best currently available Hebrew, Aramaic, and Greek texts. Turn the pages and see the breadth of the translators' notes, documenting their decisions and choices as they worked.
The translators' notes make the original languages far more accessible, allowing you to look over the translator's shoulder at the very process of translation. This level of documentation is a first for a Bible translation, making transparent the textual basis and the rationale for key renderings (including major interpretive options and alternative translations).
This unparalleled level of detail helps connect people to the Bible in the original languages in a way never before possible without years of study of Hebrew, Aramaic, and Greek. It unlocks the riches of the Bible's truth from entirely new perspectives.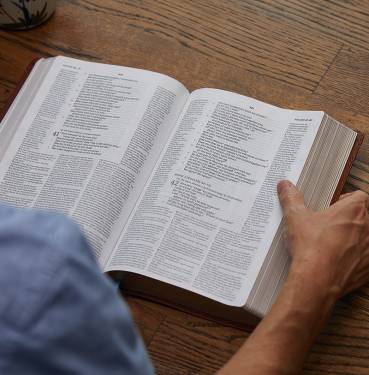 Sale 48.99 + EXTRA 10% off code SDA21
Save more with 10+ units
ISBN 9780785225164
Economy & Outreach Bibles
Offer valid until June 30, 2021, at 11:59 p.m. ET or while supplies last. Offer valid online and by phone only. Take an additional 10% off your purchase of $25 or more, after promotions and discounts and before shipping and handling costs are applied. Shipping, gift cards, or customization of products does not qualify towards minimum purchase requirements. Receive free standard ground shipping on non-rush orders of $30 or more, valid within the 48 continental United States or to an FPO/APO address; offer does not apply to Alaska, Hawaii, the U.S. Territories, rush orders, or expedited shipping methods. Offer only available to customers in the United States age 18 and older. To redeem offer, enter promo code during online checkout or provide the code to a representative during phone orders. Cannot be redeemed for cash or combined with any other discount offer. ChurchSource reserves the right to de-activate the promo code in the event of fraud or technical issues and limit quantities of individual items eligible for purchase with this discount. Void where prohibited, taxed or restricted by law. Not valid for resale.