In today's Bible publishing market there are Bibles in many price ranges from $5 to over $150. These Bibles are not the same. Those in the higher-end price range are known as premium Bibles. What makes a premium Bible? Simply stated, a premium Bible is of higher quality design, materials, and construction.

Premium Bibles have become more popular in recent years. More people are willing to invest in Bibles they wouldn't have considered several years ago. In this article, we'll explore premium Bibles a little further and find out why people like them.
Why buy a premium Bible?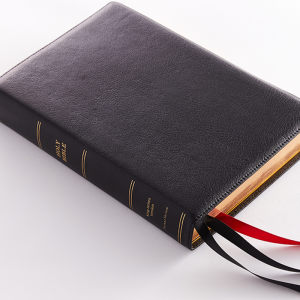 For book lovers, a premium Bible is the epitome of book-making. To get close to 800,000 words in a single volume that invites the reader to pick it up just can't be matched. They feature improved aesthetics and other details you can't get anywhere else.
Premium Bibles are durable and stand up to daily use. Their quality of materials begs the owner to read and use them. They stay open easily and their paper and print quality provide a better reading experience. They have a special feel in their materials that can't be matched by a lower quality Bible. Even the smell of the leather attracts the reader.
Why do premium Bibles make great gifts? Why should someone spend $150 or more for a Bible?
Premium Bibles are heirloom quality. They can leave a lasting impression on many generations, and they're designed to take daily use for many years. They do cost more upfront, but they last much longer. It's possible to spend a lot more than $150 on lower-quality Bibles over time in order to replace Bibles that have worn out. A premium Bible is a smart investment.
Materials? What are they and how are they used?
Building a premium Bible requires carefully-selected materials. Here's a look at some of the materials and lesser-known features.
The Bible cover – is it usually goatskin?
The cover material affects the durability of the Bible. Covers for premium Bibles come in a variety of leathers, but they're always a higher-quality leather than what's found in the most common Bibles. The more exotic covers have included such leathers as seal skin.
Goatskin is one of the most popular leathers for premium Bibles. It has a natural grain which looks and feels exquisite and is highly flexible. Calfskin is also a popular premium leather. Both are soft and usually include edge-lined construction.
Edge-lined – what is this? Does it really impact durability and flexibility?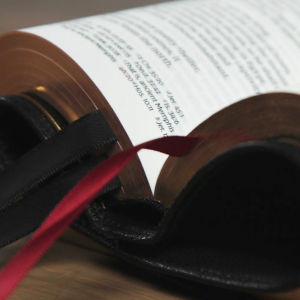 Edge-lining is a high-quality construction method of attaching the cover to the book-block. The liner, which is made from either synthetic material or leather, has a flap of material where the front and back of the Bible attaches to the cover.
Edge-lined liners greatly impact the durability and flexibility of the Bible. Paste-off, or glued down, liners are stiffer. They can tear at the hinge (where the cover is attached to the book-block) over time with lots of use. Edge-lined liners can be made from flexible materials. The flaps take the stress of the cover, making it much more difficult to come apart with use.
Art-gilding – what is the purpose?
Many Bibles have a metallic color, such as gold or silver, on their page edges. This is called gilding. It's often made with a metallic coating such as foil melted onto the edges. It gives the Bible an elegant and finished look. With gold or silver gilding the page edges can look almost white when the Bible is opened.
Art-gilding takes this a step further by adding a layer of color to the page edges. It's usually red dye, but other colors, such as blue, are common. Art-gilding darkens the edges. For example, red art-gilding can make the edges look more copper than gold. When the Bible is opened, the page edges take on the color of the dye. For red art-gilding the page edges will be a shade of red.
The purpose of art-gilding is aesthetic. It gives the Bible a premium finished look that stands apart from lower-end Bibles.
Raised hubs – what are they and what's their function?
Several hundred years ago, books used to be sewn onto cords. When the leather was placed over those cords it left raised hubs on the spine. Back then they were part of the book's construction. Today they're mostly added for aesthetics. They give the Bible an old-world look that stands out from the rest. It's a detail that makes the cover look more finished.
Even though they're usually added for aesthetics, they can perform a function. If the spine hubs (also called ribs or faux cords) are made of a soft material, like leather, they will flex with the spine. Those made of a harder material, like bone or metal, will not flex. They keep the spine flat. So, spine hubs can affect the rigidity of the spine.
Yapp – it sounds weird but what it is?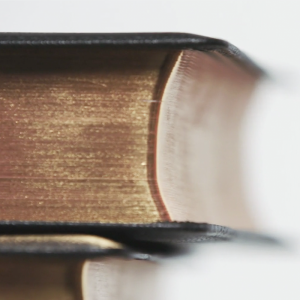 The yapp is the part of the leather cover that hangs over the edge of the pages. This is used to protect the gilding. It comes in different sizes. Just about any size is helpful in protecting the paper. In a full yapp, the front and back covers touch, fully encasing the Bible. Semi yapps don't touch, but they still help keep your hands from touching the page edges when carrying the Bible.
Ribbons – why are more better and why is length important?
Ribbons mark your place. Most Bibles come with one. What if you're reading, studying, or preaching from multiple locations in the same Bible? Having more ribbons helps because they keep your place in multiple locations at the same time.
The length of the ribbon affects its usability. The ribbons need to be long enough to grab and move. In small Bibles, it's easy enough to grab the ribbon and open the Bible, but with larger Bibles, the paper is heavier. Ribbons for larger Bibles are the most helpful if they're long enough to pull them to the outer corner before opening the Bible.
Conclusion
Premium Bibles are made with better materials and offer the most durability. They last longer and make great gifts. They include many upgrades over standard Bibles such as goatskin or calfskin covers, edge-lined liners, art-gilded edges, multiple ribbons, and more. All of which can help make your time in God's Word even more enjoyable.
You can learn more about the Premier Collection, our heirloom-quality premium Bibles, by visiting www.PremierCollectionBibles.com.