Worship has existed since … well, since humankind has existed. Adam and Eve lived in a paradise. They experienced God's creation before the Fall, in all of its unimaginable splendor. They walked with God Himself in the cool of the evening. You think they weren't bursting with expressions of worship and gratitude?
So when we worship today, we're tapping into something ancient. Something timeless.
Something that connects us to our Creator in the same way our first ancestors were connected to Him.
There are four things we need to understand about the ancient tradition of worship.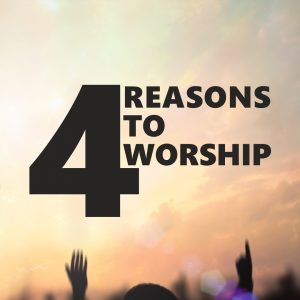 1. Worship gets us out of our own head.
Out of our own head is a very good place to be. In a culture where selfies are everything, it's easy to become the center of our own universe. To pursue accolades and fish for compliments. To promote the brand of Me. To embrace the people, opportunities, and things that benefit us and dismiss the rest.
Genuine worship, on the other hand, requires a 180-degree turn. There may be an "I" in worship, but it's strictly phonetic. Worship compels us to focus on God and His works alone.
2. Worship requires awareness.
If you go out of your way to do something extraordinary for someone else, at the very least you'd probably like the person to notice what you did. Receiving a heartfelt thank you from the person would probably be even better. And perhaps the best-case scenario would be to receive (a) a detailed expression of appreciation for your gesture that demonstrates a deep understanding of its value, as well as everything that went into it, and (b) a heartfelt tribute to your kindness, generosity, and skill-set.
Worship gives us the opportunity to offer such an expression and tribute to God. In order to do that, however, we must be aware of what it is He's done. We need to pay close attention to His work in our lives, in the lives of others, and throughout creation. We need to learn to spot God's handiwork in big things and small.
3. Music is tied closely to worship.
Many of the psalms in the Bible were intended to be sung. (David, the chief psalmist, was a musician before he became king of Israel.) In most churches, music features prominently in the worship service.
Music also works as a mood-setter for worship. If the busyness or distractions of daily life make it difficult for you get into a worship mindset, listen to your favorite worship songs. Listen in your car during your morning commute. Listen while you work out. Listen as part of your quiet time. Wherever music can be played, you can prepare for worship.
4. We were made to worship.
Passages such as Psalm 95 (NKJV) suggest that worship is part of our job description as created beings of God.
Oh come, let us worship and bow down;
Let us kneel before the Lord our Maker.
For He is our God,
And we are the people of His pasture, and the sheep of His hand.
Worship is in our blood; it's why God created us as He did. When we fully embrace genuine worship, we experience a sense of fulfillment and purpose that can't be experienced in any other way.
For additional reading, check out the article Five Ingredients for a Game-Changing Worship Experience.
###
blog/
Looking for a gift that says "thank you" to your pastor?

Pastors stand ready to meet the needs of their flock at a moment's notice, and Thomas Nelson's Minister's Bible is here to help offering time-saving guidance for weddings, funerals, baptisms, and more – all within the pages of Scripture. This is the only Bible containing the complete text of the bestselling Nelson's Minister's Manual conveniently set between the Old and New Testaments.